Announcing the date for our annual golf tournament to be held on Wednesday September 25, 2013 at Heritage Golf Links in Tucker. Mark your calendar and save this date! If past history is any indication, we are sure to have fabulous weather and a great day.
Mark your calendar now t join us for our second Cocktails for a Cause event at Park Tavern (at Piedmont Park) on Sunday, August 18th at 6:00—8:00 PM. This concert is sure to be a great time featuring live music by Holly Williams (Hank Williams' granddaughter) with Mama's Blue Dress and Deja Bluegrass Band. Admission $20 at the door, includes complimetary Beer and Wine.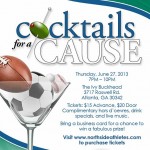 Summer is here and it's time to cool off, relax with a cocktail, meet some new friends, and help raise money for a great cause! Please join us for a party at the Ivy on June 27th @ 7:00 to benefit the Northside Athletes Foundation.