Northside Athletes Foundation receives more than $10,000 from Beacham and Company Realtors
Reprinted from Northside Neighbor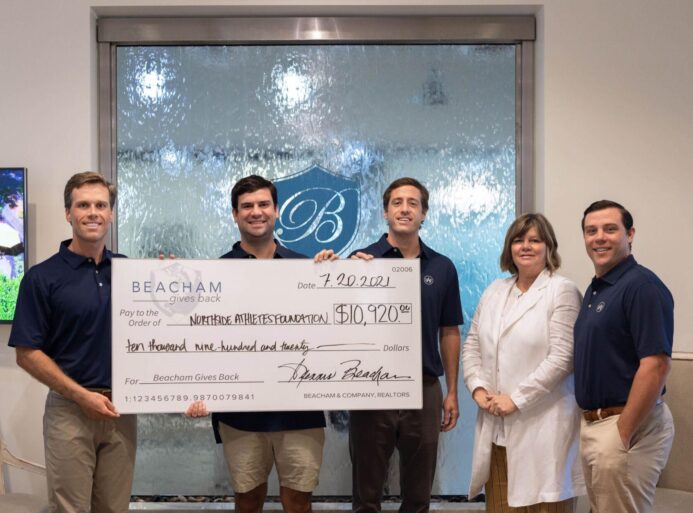 Atlanta's own Beacham and Company, Realtors raised $10,920 for the Northside Athletes Foundation.
Primarily known for selling luxury real estate, Beacham and Company is having an impact on more than just the housing market by way of their charitable giving program Beacham Gives Back.
Each quarter Beacham's agents select a charity via company vote. Agents can then donate a portion of each sale directly to the cause, with the firm's ownership matching those efforts. Beacham Gives Back has given nearly $500,000 to local Atlanta charities since it was founded in 2006.
"It's just awesome to see a local company like Beacham so invested in the future of our community," Beacham agent and NAF board member Dixon Raney said. "By having a positive impact on our youth today, we're helping to nurture the next great leaders, neighbors, citizens of tomorrow."
Founded 30 years ago by Tom Raney and Trip Taylor, NAF's mission is to promote youth character and leadership development through sports. The organization arose from a golf tournament between ex-athletes from Riverwood and North Springs. Each participant in the golf tournament paid $150 entry fee and the proceeds were donated to Scottish Rite Children's Hospital.
Through sports, NAF encourages coaches, parents and teachers to incorporate life lessons into their programs to help build the character and self esteem of each child. NAF supports organizations such as Special Olympics of Georgia, Sandy Springs Youth Sports, Fellowship of Christian Athletes and Camp Sunshine.